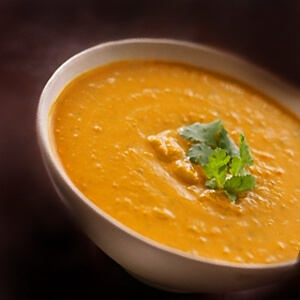 If you're a foodie but don't have much time, this idiot-proof pumpkin and lentil soup recipe is exactly what you need. There's nothing distinctly Arab about pumpkin and lentil soup. But s
hoorbet a'ddas
is a staple Arab dish and fusion food is all the rage. The added pumpkin is also great for pleasing those who aren't lentil fans.I borrowed this particular recipe from my cousin who made it at a recent family dinner. It was so delicious, even the little kiddies loved it.
If you're looking for a flavoured twist, you can also try this with carrot. You can serve it as an entree or as the main with a bit of toasted sour dough and a drizzle of olive oil.
7. 4- 6 cups of water (depending on how thick you like your soup)
1. Peel pumpkin and cut into 1cm pieces.
2. Peel onion and cut into 4.
3. Wash lentils until water runs clean.
4. Place all in large pot with water.
5. Bring to the boil then reduce heat and simmer for 15 mins until lentils are cooked and pumpkin has softened.
7. Using handheld mixer, blend ingredients. Be careful not to overblend. Keep lentils course.
8. Add salt, cumin and butter and stir through*.
9. Serve into individual bowls.
10. Top with a dollop of natural yoghurt (optional).
11. Garnish with fresh parsley.
*Adjust salt and cumin to taste.