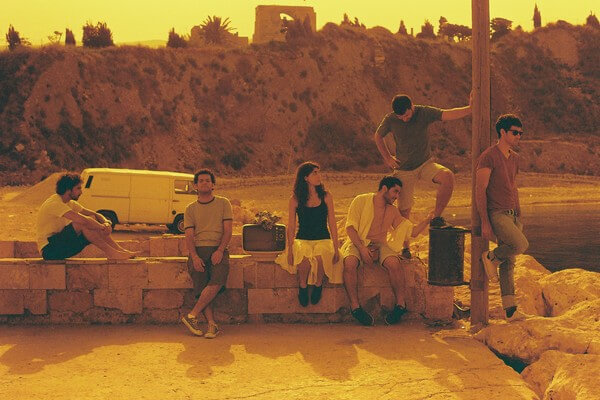 My love for Mashrou' Leila grows every day. Their third new album Raasuk has got me buzzing – I can't stop listening, I can't stop loving. I'm savouring every lyric, every strum, every beat. It's been two years since their last album came out. The wait has been long.
My love affair with Mashrou' Leila, a Lebanese alternative rock band based in Beirut, began when I stumbled across their first self-titled album, Mashrou' Leila (Night Project). The first track, Fasateen (Dresses), lured me into their world, and more significantly, opened me up to mine. I then became hooked onto their second album, El Hal Romancy (The Solution is Romance), and I've been waiting for more ever since.

When I first discovered them, they had no albums as far as I was concerned. They represented more than just music production. They did not need structure. All of their songs could have been created in a single moment. I listened to all of it, all the time. Mixed. Shuffled. Repeated. Covered.

Their songs, their clips, their existence as a group, is a graceful rebellion, an eloquent screw-you, against some of the seemingly unshakeable traditions, values and conflicts within Lebanese and Arab society.
Mashrou' Leila described their new album as being "about everything".
"Love, lust, mourning, social control, Lebanese politics, the Arab spring, and most importantly, dancing. We challenged ourselves musically and lyrically to try to get out of our genre."
They've sung about war, love, homosexuality, materialism, religion, and domestic violence. It isn't typical protest music, nor is it meant to be.
They're not trying to rage against the machine – they're not encouraging any sort of uprising. In fact, they are documenting an uprising, a youth-driven revolution, one that is gradual and bloodless, one of a society that is hard to transform, but is transforming nonetheless. They do so by observing, commenting, and relaying feelings and stories through their lyrics. They do so emotionally, matter-of-factly, sarcastically, apathetically, skeptically. They lament about the way things are in a way that makes you sway.
Remember when you told me you'd marry me, without money or a house? (Fasateen)
How am I supposed to care for politics when everyone here's so lazy / And everybody's stubborn that their religion is the best colour. (Obwa)
Hey, you, girl with the jacket and the pants, I saw you standing on the terrace, I thought you were a guy, miss…forgive me, pardon. (Imm El Jacket)
I don't know if I'm a man or an ATM / But the rent's super-expensive my brother / Marry me and read Engels in my bed / Slaughter the sheep, distribute, handout to the neighbours. (El Hal Romancy)
We're sick of religion, tired of humiliation / Longing for hunger, full from eating shit. (Min El Taboor)
Each song is a sigh.
Sighs of elation, frustration, confusion.

They represent the little things we do to ventilate. The discreet eye roll upon hearing a casually bigoted remark, the smirk, the small cringe, the furrowed brows upon hearing bad news, the quick blinking back of tears when someone hurts you. The inward protest. And once you dive into the music and crank it up, it becomes this open, unapologetic conversation with your best friend, your significant other, your mother. They need you to listen to them, and you need to listen to them, to sigh with them, to rest on them, to drink a strong cup of coffee with them.
They have woven several different parts of me – parts I never thought could harmonise – into sounds and lyrics. Finding Mashrou' Leila was a little like finding home. Suddenly, my growing fascination with my cultural heritage and its history and politics, combined with my newfound adoration for the language and music, mixed in with frustration with my heritage, its conservatism and overbearing pride, and my rocking out to Blink 182, Green Day, Evanescence, Franz Ferndinand, Radiohead and Muse growing up, fused together. I could hear it in their music.
It's a feeling, a sort of contentment about several of these elements that seem to define me, which I have only found in them so far.
Hamed Sinno's emotional and slightly husky voice, his thick Lebanese dialect, is moving and familiar. It is the Lebanese dialect that especially draws me in. I grew up around many neighbours and friends who came from different regions in Lebanon, and it's that similar Lebnani twang that coloured my upbringing. Lebanese people owned the bakeries and the little Arab grocery stores and the sweet shops. Mashrou' Leila doesn't make me feel nostalgic as such, but at ease – at ease with growing up, and with continuing to grow up.
I can listen to twangy Lebanese Arabic, something I associated with being young – with not having freedom – telling me things I actually want to hear. Artistically. Poetically. Mashrou' Leila are sweary, down-to-earth, dreamy. They are soothing. Liberating, even if just momentarily. When I first discovered them, it felt relieving to know that other Arab youth thought like me. I knew they were out there, but it never boomed from the speakers. They gave me hope, and continue to.
This all might indicate that I might be having some sort of identity crisis, that I'm a cultural wreck, but I'm not. I am not a caricature. Music is one of the most beautiful things about humans, and in a hectic and sometimes misunderstanding world, we all seek out some kind of serenity, and I find a lot of it in music, and more particularly, Mashrou' Leila. In less roundabout terms: I can truly chill out to them.
One of the standout songs in the album Raasuk is Bahr , which features Erik Truffaz. It is the last track on the album. It is infused with the sounds of Truffaz playing the trumpet. It's slightly different in style to their older songs, but it doesn't stray too far from their brand. The sad instrumental opening, layered with trumpet, and then the raw, husky, heart-tugging drawl of Sinno slipping in, reminded me a little of American band Beirut's folky Balkan beats, and Zach Condon's sad, sonorous and vintage-tinged voice. In Bahr, Sinno is begging the sea, the bahr, to return his brother, because the waves stole him. He sings that the fishermen are sleeping.
My Arabic is not strong enough for me to interpret the symbolism in this song – there are Arabic expressions and ideas attached to the sea, to the night, to the brother, that I am probably not familiar with, so I do not want to say anything about the song's meaning with absolute certainty. Unlike songs in their older albums, the concept is vague; the lyrics hint at something more personal to the creators of the song, leaving the listeners to wonder and interpret the song as they wish.
Other tracks I especially liked on this album are Taxi, Raasuk, Skandar Malouf, Lil Watan and Ma Tetrikni Heik, each deserving of their own full-length reviews. However, the only way to experience Mashrou Leila is to listen to them, not read about them. The album Raasuk was released through the help of crowdfunding, and unfortunately, is not yet available on iTunes for purchase, nor is it available on Spotify (so that the artists at least earn some royalties). Albums Mashrou' Leila and El Hal Romancy are both on iTunes and Spotify, and Raasuk tracks have been uploaded onto YouTube by some fans if you want to have a listen.
Five of my favourite Mashrou' Leila songs:
Imm El Jacket
Fasateen
Shim el Yasmine
Raksit Leila
Bahr