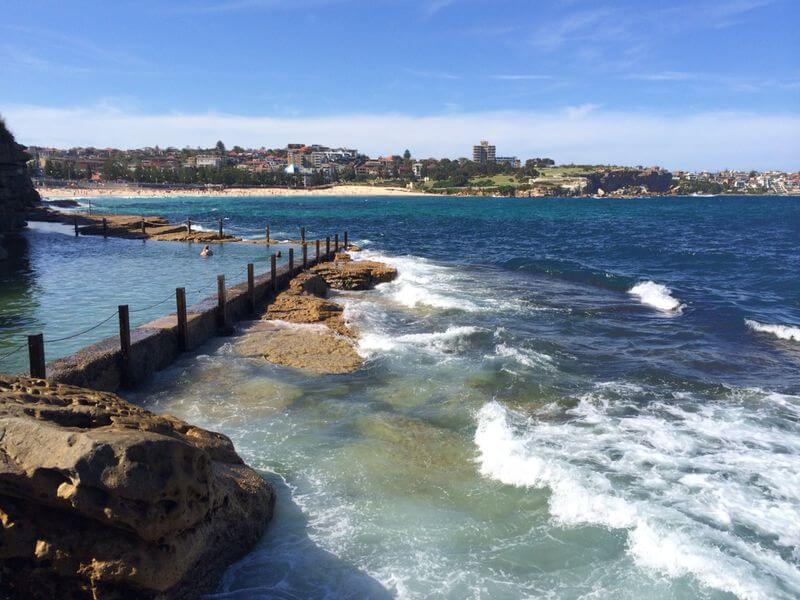 Daily Baily predicted that the temperature would hit 41 degrees in Sydney. So, my sister and I thought it would be the perfect opportunity to pack our cozzies and tanning oil then head up to Narrabeen for a picnic.
We decided to make a quick dash to our local shopping plaza to pick up some essentials: drinks, an esky and snackage for the road. As we walked through the supermarket, my sister and I were confronted by a male worker stocking the shelves. I noticed him noticing us as we walked down the isle. His stare lingered on my sister for a while then back to me. Not at all odd.
He began to inch closer towards us, then back away, tentatively smiling as though he wanted to say something. Finally he said, "I don't mean to be rude [at this point I sensed that whatever he was about to say was probably going to be rude], but you don't normally expect to see a Muslim lady carrying an esky."
Stop. Wait. What? You don't expect to see a Muslim lady carrying an esky?
It was this encounter with the male worker, which occurred several weeks ago, that cemented what I have always known: there remains an outright confusion about what it means to be a Muslim in Australia. His comment was not straight-out offensive, but, when I thought about it, it was naive and ignorant.
The esky is an iconic Aussie symbol. An embodiment of our love for the outdoors. It means family, friends, sun, laughter and a good spritz of Aerogard. It means sausages and kebabs, it means Tooheys New and Bavaria Apple Malt. If you're not convinced, then it also serves a far more practical and universal purpose: keeping drinks cool because nobody enjoys a flat Fanta.
Yet, for some reason, he thought that being Muslim makes a person incongruent to all these things that typically represent Australian culture. I don't wear the hijab so I often go about my day-to-day activities without the unsolicited remarks. However, my sister does wear the hijab. I probably would not have been disturbed, as I decided between Ritz or Jatz crackers, had I been carrying the esky alone .
My sister and I couldn't be more similar. We have a shared love of open flame BBQ'd sausages with tomato sauce and appreciate the perfectly squidgy Havaianas. We were both born in Australia. We went to primary school, high school and university here. She makes hella cool graphic designs for university projects whilst watching endless Friends and Prison Break re-runs. She insists on being DJ whenever she is in my car, stealing the AUX cord and playing a mix of pop and rap songs from Justin Bieber to Drake, One Direction to Eminem. Yet, to the male worker, my sister's head covering overpowered all the things that she holds in common with the other 23 million Australians.
We both dismissed his comment by casually laughing it off in a moment of shock and surprise. I said that everybody enjoys a good picnic, and that we are proof that his assumptions were simply… wrong.
In a similar vein to this story, approval of the Islamic prayer hall at Kemps Creek by Penrith Council was met last Monday with protest. Shockingly, the protesters who opposed the development paraded signs with Nazi symbols and slogans including "Islam a crime against humanity", "Say no to Sharia" and "Think of Penrith's future". One also claimed that "Islam equals terrorism, animal cruelty, misogyny, war and gang rape".
Unsurprisingly, the protests were made up of only a small group of supporters from the Australia First Party and, the ironically titled, Party for Freedom. The banners, much like the comment made by the worker, reflected not only a lack understanding, but an unwillingness to learn, about Islam, Arabs, multiculturalism and diversity. Although the slogans were filled with so much hatred and fear, they were, in fact, founded in falsity and hysteria.
This Monday, Australia witnessed a crime on home soil that transfixed those young and old regardless of colour or creed. The events that transpired during the Sydney cafe siege were beamed into living rooms across the nation and I, for one, watched with shock and trepidation as I contemplated the possible outcomes – immediate and longterm. I recited a prayer and hoped that the hostages will be freed safely and Muslims would not have to face the repercussions of a crime with which they had nothing to do simply because the perpetrator claimed to be acting in the name of Islam.
Unfortunately two innocent lives were lost during the siege and it is now being dubbed "the moment Australia changed forever". I was skeptical of this title at first, I thought why should the actions of a lone man change anything? We should not let him.
But as the "illridewithyou" hashtag rose to international popularity I realised that through the disguise of a horrendous crime, December 15th may become the day Australia set itself apart from the US in the way we react to tragedy, to prove that harmony can overpower hatred. My sister says that the hashtag makes her optimistic that one day she wont have to question the attitudes of passer-bys on public transport as she ventures into the beautiful city which once stood still.
It is obvious from my supermarket experience, to the protests that occurred last week and to the anti-islamic comments that have tried to hijack the peaceful #illridewithyou trend, that ignorance remains rampant in this country. The perpetrators are, in many cases, young people. People who need not look far to meet a Muslim. To them I say, we are in your classrooms, workplaces and shopping centres. Thousands of practicing Muslims pass you by on the streets, trains and beaches. And we, like you, are simply esky needing, beach loving, Weet-bix kids too.
By Nour Haydar
Nour Haydar is a freelance journalist who recently completed her Bachelors of Arts in Communication (Journalism) at the University of Technology, Sydney. She sub-majored in Screen Studies to combine her interest in politics and culture with her love of the movies and buttered popcorn.