Our Lady of Lebanon Church is preparing for Jesus' birthday, and the excitement contagiously fills the air. Tania Kanaan interviews priests at the church to share with us the meaning of Christmas in Australia…
The connotations associated with Christmas are breathtaking, special and joyous. It is the time to prepare for Jesus' coming.
Father Sam reflects, "during the Christmas mass I feel very emotional, because I feel like Christ is being born all over again. It doesn't feel as though it happened 2000 years ago. It feels like it's happening in the present. This is how powerful it truly is."
The Our Lady of Lebanon Community Centre is busy with community members organising, scheduling and planning all the events that occur over the Christmas period in which members of the laity, young and old, can participate.
Many families cherish this time to reflect, pray and spend quality time together in thanking God for all the blessings they have in their lives.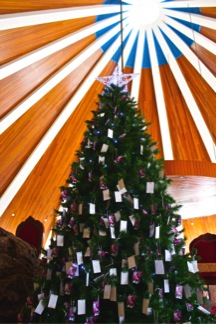 The Church is beautifully decorated with inviting Christmas lights, a grand Christmas tree and a picturesque looking nativity set, which captures the true essence of Christmas. The Christmas tree stands tall with the star of Bethlehem on top and decorations in the form of personal affirmations.
Although many Australians get caught up with the materialistic side of Christmas, we must remember the true essence and meaning of the celebration.
The true.gif"text-align:justify;">Father Tony says, "We try and motivate the youth of today to attend Church and make their faith priority. I personally tell them that they need to add 1 hour of their time a week particularly during Christmas time, to their Christmas list and make Jesus a priority."
Our Lady of Lebanon Parish warmly invites everyone of all ages to unite together during this special celebration. They will be hosting a variety of activities and events for both young and old throughout this festive season. Such activities and events involve: Christmas Mass, Nativity play, Novena walk, Carols by Candlelight and a Charity walk from Westmead Children's hospital.
These various events wonderfully unite the community together during this special time of the year reminding us of the true essence of Christmas.
Wishing you all a very blessed Christmas and a Happy New Year!
CHRISTMAS MASS TIMES
Wednesday 24 December 2014 (Christmas Eve):
6.00pm Children's Christmas Eve Mass (Eng) with Santa after Mass
11.00pm Solemn Liturgy celebrated by His Excellency Antoine-Charbel
Thursday 25 December 2014 (Christmas Day):
8.00am (Arabic)
9.30am (English)
11.00am (Arabic/English)
5.00pm (Arabic/English)
7.00pm (English)
Friday 26 December 2014 (Boxing Day):
8.00am (Arabic)
9.30am (English)
11.00am (Arabic/English)
6.00pm (Arabic/English)
By Tania Kanaan
Tania is a Lebanese-Australian photojournalist and freelance writer. She has a major in English Literature and passes on her passion of language and arts as a High school teacher. Tania is passionate about the areas of education, culture, music, food and social justice. When she is not teaching high school students, she is playing the piano, spending time with family and friends, taking photos, eating chocolate or listening to artists such as Frank Ocean, Olafur Arnalds and Wael Kfoury. She also journals her photo-journalism through her blog http://taniakanaan1.wordpress.com