What are the main policies at play in the NSW elections, and what will have most sway on your vote? Young ALP member, Yusra Metwally, shares her thoughts on this week's upcoming state elections.
Fourty-eight hours away from hitting the polls, New South Wales is on the verge of witnessing one of its most interesting state elections yet. It may not be as sexy as federal politics, nor as entertaining, but the issues decided on a state parliament level are, after all, far more visible to Australians on a day-to-day basis.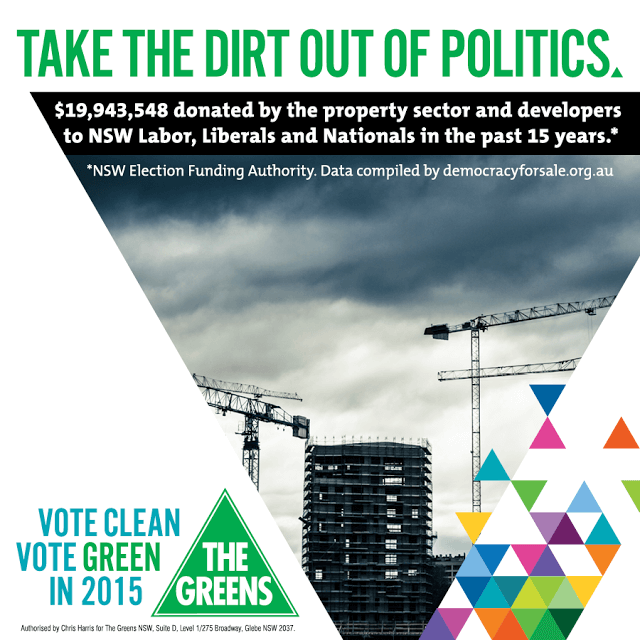 This election is all the more worth watching because of the swift changes in leadership at both Government and Opposition levels over the last 12 months. A $3,000 bottle of Penfolds Grange wine saw then-Premier Barry O'Farrell resigning his post, while emerging evidence in ICAC investigations saw ten Liberal MPs move to the crossbench and two resign from Parliament altogether.
And, although the Mike Baird-led Government has weathered the storm of ICAC public hearings into illegal political donations amongst Liberal Party ranks, the lesson learned is clear. NSW voters should be mindful, and carefully question the legitimacy of all candidates with links to developers.
At the other end of the spectrum, John Robertson resigned as leader of Opposition three months ago when it emerged that he had, as Member for Blacktown, made representations on behalf of the Sydney Siege gunman, Man Monis. Luke Foley replaced Robertson as Opposition leader and leads Labor to the polls this weekend.
Three key issues in this election
1. Privatisation
Mike Baird's big-ticket election promise for new roads, infrastructure, hospitals and schools comes with a 99-year-long catch. He has pledged to lease 49 per cent of NSW's poles and wires to the private sector for a lease so long that it may as well serve as a sale.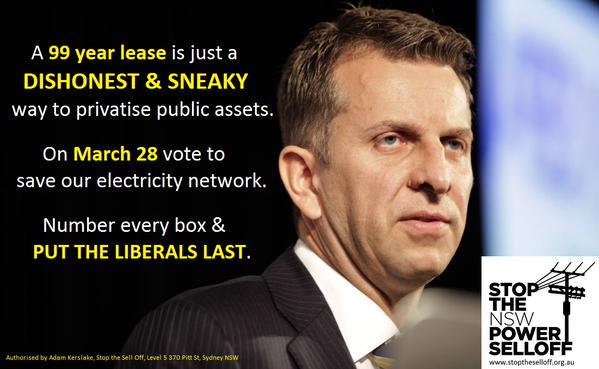 Treasurer Andrew Constance is marketing the poles and wires lease policy on the basis that "we need to bolster the state economy, and there's no other means to raise money". However, the Treasurer overlooks the fact that our electricity network currently generates $1.7 billion a year for NSW. Going ahead with this Liberal Party plan will worsen the State Government's fiscal position and require further cuts to expenditure, which will impact on education, health and transport. It is, therefore, only logical that poles and wires remain as a public asset in public hands.
If the recent Queensland state elections serve as an example then this issue will be a key one for NSW. Queenslanders voted out their Liberal government after only one term for advocating the sale of public assets, and Labor's Annastacia Palaszczuk became the new Premier as a result.
2. TAFE and Education
NSW may have the highest number of training organisations under investigation in the country for unscrupulous business activity, but this hasn't caused the Liberal State Government to back away from its privatisation goals for the education sector.

The implementation of the Smart and Skilled program has effectively dumped TAFE NSW into an unfairly competitive market where the institute is forced to compete for money and students against low quality corporate Registered Training Organisation providers focused on meeting the bottom line – profit
As well as providing opportunities for students from diverse education and socio-economic backgrounds, the TAFE system provides school leavers the opportunity to undertake courses leading to employment across a broad range of trades. Australia needs the high quality training that TAFE provides, which, in turn, plays a key role in our economic and social infrastructure.
The Luke Foley-led Opposition promised to commit $100 million abolish the Liberal's 'Smart and Skilled' privatisation program and reverse the Baird Government's TAFE fee hikes.
Likewise, the Greens have committed to protecting the TAFE system by limiting only 20% of the government's skills training budget to non-TAFE providers, ensuring that public funding is not given to either new training providers or for-profit training corporations.
3. Multiculturalism and Race
Despite the political divide, it is refreshing to see that there is an emerging make up of ethnicities representing the rich make up of multicultural Australian society. Most lauded has been the candidate for the seat of Lakemba, Labor's Jihad Dib. He is well known in his seat for the remarkable role he played as former Principal in transforming the notorious and volatile Punchbowl Boys' High School into a family and community orientated school.
On the flip side, it is disheartening to see that racial and religious prejudices are exploited in the race for votes. The Christian Democrat Party candidate for Penrith, May Spencer (who is interestingly herself a part of multicultural Australia, being of Asian ethnic heritage), has made 'No Mosques in Penrith' her campaign slogan. She writes on her Facebook page, "It is time for Australians who are decent and fair to question those who cry "Racism", "Bigotry", "Islamophobia" whenever anyone chooses to stand up and defend Australian Laws, Rights and Values."
In the same vein, Luke Foley – Leader of Opposition in NSW parliament – isolated the Muslim community in his maiden speech in 2010. While he recognised that "extremist Islamist terrorism" derives from an "ideology [that] is based on an utter perversion of the Islamic faith", he laid the blame on "progressives" for staying silent and denying the actions of extremists. The employment of such language is reminiscent to Tony Abbott's recent National Press club address, where he accused Muslim leaders of failing to speak up more clearly and more often against terrorism.
Such sentiments do not sit well with the Muslim Australian community, who continue to face such criticism from government leaders despite regular and repeated condemnation of terrorist acts. It may prove especially problematic for Foley, who was parachuted into Auburn in January as the Labor candidate for that seat following a feisty and bitter pre-selection battle between the incumbent Labor Member for Auburn, Barbara Perry, and Councillor Zraika over allegations of branch stacking by the latter.
Sentiments about Luke Foley as the candidate for the seat of Auburn have been mixed, and he has been slammed for his lack of presence and notable lack of posters compared to the Liberal contender for the seat, Mayor Ronny Oueik. But Oueik, on the other hand, as a Liberal candidate, stands for the same policies of privatisation that, as discussed above, will have far-reaching consequences for NSW.
However, as the adage goes, politics can often become an exercise in choosing the lesser of two evils. Using the seat of Auburn as an example, voting for a Liberal Candidate who stands for detrimental policies does not necessarily provide the solution to Luke Foley's perceived shortcomings.
So when it's time to go to the ballot box, don't take your vote for granted. Have a good think about the policies that will have wide reaching repercussions upon you and the community, and candidates who will represent you in the next NSW state parliament.
Make your vote count.
By Yusra Metwally
Yusra Metwally studied Economics and Law and is passionate about social justice, community development and coffee. She has worked across various government departments and is a member of the Australian Labor Party. Yusra is currently involved in Labor candidate Jihad Dib's election campaign.