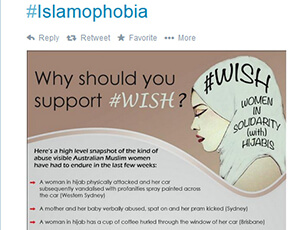 Perhaps not surprisingly, a campaign that calls for women of all stripes to don the hijab, take a photo and post it online has garnered mixed reviews over the past few weeks.
#WISH, or Women in Solidarity with Hijabis, came about with the idea of show support and solidarity for Muslims, and, particularly, Muslim women, around the country.
With hundreds and thousands of views, digital interactions and imprints, and almost 30,000 likes on Facebook, it is certainly making an impression in the wider Australian community. Women have used it as an entry point for discussion, posting their photo in a hijab and usually accompanying it with a message of hope or solidarity. On the surface, it all seems very positive and very encouraging, as it provides a space for those who support Muslim women and sisters to very visually ,and publicly, make a stand.
However, responses from other parts of the Muslim community have rejected the premise of the campaign entirely as belittling and disrespectful of the religious nature of the hijab. Not only does the campaign minimise the religious nature of the hijab, but it can allow people to engage without the difficulty of taking on the identity per se; the privilege to be able to remove the hijab and rejoin society as an accepted member of the mass group is one that doesn't exist for many Muslim women as an option at all. Therefore, women who feel like they have 'joined' the group or, after wearing it for a week, realised how 'difficult' it may be or how 'perceptions change' when you are wearing a hijab are simply Orientalising the garment rather than engaging with its true meaning.
Nevertheless, in spite of commentary about the effectiveness and impact of the campaign, it is worth noting at the outset that it was begun by a Muslim woman in Australia. Therefore, it should be treated as reflective of the wishes of some members in the community. Some may argue that the campaign is a reactionary way of dealing with the superficial manner in which the public engages with religious belief, however that argument, again, becomes an assumption around a Muslim woman's capacity for autonomy and choice. Rather than re-emphasise the perception that Muslim women are oppressed and helpless, especially in the face of adversity, this prime example shows that those very women are capable of taking matters into their own hands and finding new ways to change the narrative.
Another campaign in Australia, "Racism, Hatred, Bigotry – #NotInMyName ", is also pushed by a Muslim Australian woman, further defying stereotypes of men being the only leaders in the community.Objectively, there is no denying that the campaign is not the answer to all the Australian Muslim community's problem, nor does it engage in critical policy creation or find solutions to the increasing incidences of racial and bigoted acts.However, perhaps this is a case of not throwing out the baby with the bathwater?
What the campaign has been successful at doing is allowing many women to engage with the Muslim community in a way they may not have done previously, perhaps because they are drawn to the superficial beauty of the hijab, however ironic that may be.
Most of the women who do engage are doing so in an effort to learn and to demonstrate their solidarity. Although some may fall under the 'well intentioned but possibly misguided' banner that volunteer activists sometimes do, there is still a positive intention that is worth recognising and working with.
Who are we to decide or determine how people learn about Islam? The Muslim communities expend immense amounts of carbon dioxide talking about how there is little knowledge or information about Islam in the wider community. Should we shoot down one of the most successful campaigns that has allowed positive information to be shared with thousands?
#WISH is not the whole answer, but it is not none of the answer either. What it does is open the doors to a conversation about what the religion means, what the reasoning behind its wearing is based on, and ultimately, what Islam is all about. It is a non threatening, low-barrier-to-entry way of engaging, and although it may make us as Muslim women feel insecure, frustrated, culturally appropriated and exploited even, no change is made without sacrifice and change is certainly not made if we continuously refuse to engage with the initiatives that have been positive and ultimately, successful. Right?
Honestly and personally speaking, the campaign can be uncomfortable for Muslim women. It takes a religious act that for some means daily struggle and constant judgment, and allows it to be worn by many others as a simple ornament, like any other item of jewellery. The significance of the hijab can be lost in that transaction, and not only is that sad, but it is a misrepresentation of its meaning. It should be noted that the concept of 'hijab' itself isn't even only just about the headscarf, it includes modestly dressing across the board, and modesty in our actions as well. #WISH does not communicate that larger message.
But it doesn't pretend to, either.
Yes, it may be uncomfortable; but is rejecting it the only answer?
Perhaps it should be thought of in this way: #WISH can be the foot in the door. It may only be a little bit of foot in the door, and perhaps it's only in the door frame to test the waters. Nonetheless, if we are serious about changing the narrative and engaging and educating the wider public, the door at least has to be a little bit open. Will we continue to squabble about how the foot got there, holding our post-colonial grudges in our hearts, or will we try to forgive the lack of knowledge and work to ensure that the vacuum is filled?
The choice is ours. Next move, hijabis.
Yassmin Abdel-Magied
Yassmin is a mechanical engineer, writer, blogger, and petrol head who serves on various state and federal councils and currently works as an engineering specialist on oil and gas rigs. At sixteen, she founded Youth Without Borders, an organisation focused on enabling young people to work for positive change in their communities. In her spare time, she enjoys reading, having a yarn, football (Liverpool FC!), Formula 1, boxing and is currently saving for her first V8.