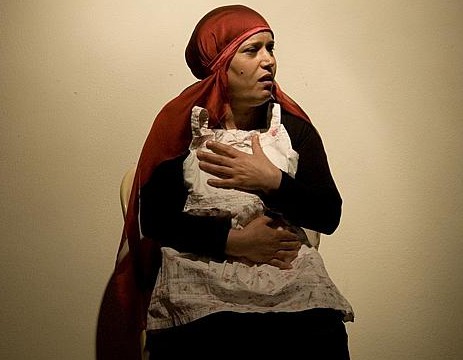 'My dream was to be a woman….
A woman in every sense of the word.'
Scheherazade's Diary, a film shown last Friday in Sydney as part of the Arab Film Festival, is a tragicomedy documentary that sweeps you up in the intricate fables of its female characters and takes you through a kaleidoscope of untold stories. The Lebanese entry for this year, the film endeavours to capture the struggles women are facing in their country.
Director Zeina Daccache chooses the microcosm of a makeshift community comprised of the female inmates of Baabda Prison as the subject, filming a 10-month drama-therapy theatre project set up in 2012.
The title is an essential part to the fabric of the film. It is taken from a story you've perhaps heard before. A legendary woman, known as Scheherazade, was married to the Sultan, who had a predilection for marrying a woman at night and killing her in the morning. But Scheherazade thought up a plan. Every night, she would tell him a story and leave it hanging so he would spare her life the following morning. One thousand and one captivating stories later, he had fallen in love with her.
Through the power of storytelling, Scheherazade had liberated herself to the point where feminist scholars acknowledge her for being "the greatest female strategist of all time".
This characteristic epitomises not just the film itself but its characters, who each have their own distinct, vibrant, colourful personalities, from the eclectic and hilarious to the heartbreakingly stoic and proud. One by one they speak about themselves, sometimes brazenly, sometimes shyly, but all contributing to a tapestry that paints the terrifying reality of life for sections of the population in Lebanon that we rarely hear about; stories slowly unravelling to reveal serious cases of domestic violence and discrimination, all for the simple crime of being born into this world as a woman.
Daccache carefully weaves together snippets from scenes of the theatre production of 'Scheherazade in Baabda' and contrasts that with interviews as the women go about their day-to-day lives and prepare for their roles. There is a solid bond between the women as they struggle through their living hell, and the sheer diversity and unexpected personalities on display here reminded me of the highly successful Netflix series Orange is the New Black.
Through each of their stories, we begin to understand how these women came to end up at the prison, away from family and their children. The chronicling of their lives and the eventual image they evoke is one of a system that has failed and betrayed them.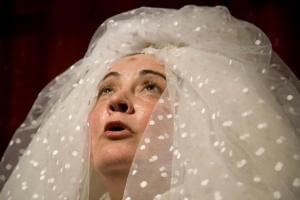 Despite the glitz and glamour that often characterises life in Lebanon and the constructed perception of a contemporary and progressive culture, some women in Lebanon still face discrimination in law and life. Discriminatory provisions in personal status laws, determined by an individual's religious affiliation, significantly harm and disadvantage women—including unequal access to divorce and child custody.
In a world where family life is paramount, to hear such harrowing stories of domestic violence, abusive husbands and the loss of children is utterly traumatic. One inmate tells of being tied up and raped by her husband. It is even more heartbreaking to learn that so many of these women have only been arrested and not yet convicted of a crime, yet they have spent years in prison (they call it their "kingdom of Baabda") with no clear indication of what will become of them. Many watch the years pass by and speak of how no one will want them, if and when they are released.
Daccache says in an interview, 'The ladies are authentic and misery often leads you to be ironic about your status… You reach a point of either just surrendering to injustice, suffering or you decide to laugh about the irrationality of life.'
But in spite of the crippling and debilitating situation these women are in, to their absolute credit they do not come across as weak victims. They smoke, they laugh, they joke and most of all they dance with a manic fervour.
'Dancing is in my blood. Dancing comes naturally even when I walk.'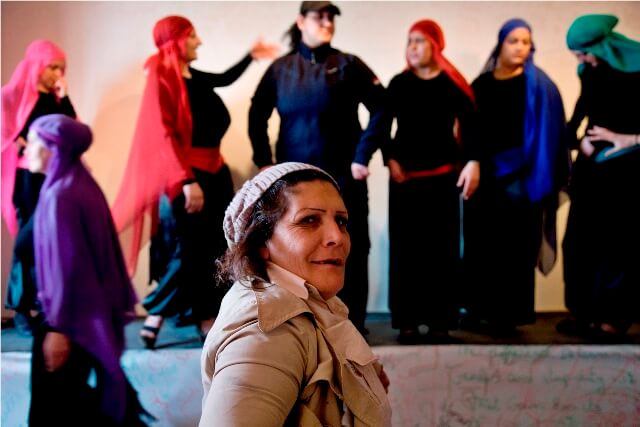 The women are unapologetic, unforgiving and through the drumming of their feet on stage, and by placing a more traditional and symbolic veil around their heads, they make the choice to stand up and be heard, shouting out in defiance that they, too, exist, even in a world that has rejected them. With stories of a humanity shared across cultures, religions and countries, they too, like Scheherazade, liberate themselves.
Rooted in a style of gritty, hyper-realistic filming, the overall effect is a profoundly surreal, hard-to-watch but thoroughly insightful documentary that uses drama, poetry and theatrics to reveal a layer of undoubted truth.
The score is just as startlingly beautiful. Composed by Khaled Mouzanar, the "Hans Zimmer of Lebanon", it highlights the tragedy and inner turmoil of the women and resembles the music from a ballerina's box, as she whirls and turns at the first open.
What Daccache does best, though, is keep the audience laughing through the tears, using black humour laced with poignant moments and sacred revelations. Unexpected moments of tragic beauty reveal themselves in scenes ranging from a mother who speaks of her son not recognising her to a scene where the women are visibly distressed as a man tries to take their swing from the common room. The aching and longing for freedom is expressed so beautifully in another scene as a woman screams in sheer agony through the bars towards the sea.
'Oh sea! How far are your waves? Take me to my loved ones! Take me to you!'
Such quiet fortitude is best summed up with the words of one beautiful woman as she responds ever so gently.
'My future? Breathtaking.'
Scheherazade's Diary screens at the Arab Film Festival in Melbourne on Saturday 23 August and in Canberra on Friday 29 August.
By Sheree Joseph
Sheree spends her days darting in and out of the Internet (her second home) as a social media ninja in film and television, occasionally blogging at Tiny Thought Revolution (rumour has it she was live blogging her own birth) and working on her novel almost never because she has no time. She is also very fond of cheese.