By now, even the least news savvy of Australians have noticed that something is underfoot in the land that brought you the pyramids, cotton, and a revolution in 2011.
But contrary to the stereotypically relaxed pace at which Arabs tend to operate, events in Egypt escalated so quickly in the last 10 days that trawling through all the news articles understandably seems like a daunting task at this point.
Luckily, Sajjeling is ready with a thorough rewind of all the events you need to know below.
BACKGROUND
JANUARY 25, 2011
Egyptians took to the streets to protest the oppressive living conditions that came with an almost 30-year-long dictatorship under the rule of then-president, Hosni Mubarak.
FEBRUARY 11, 2011
Mubarak stepped down from presidency, and the Supreme Council of Armed Forces (SCAF) took control until elections so a new Egypt could be organised.
JUNE 16 to 17, 2012
After months of protests against SCAF's continued military control and all its trappings, elections were held for the first civilian President of Egypt. The two candidates with the most votes were Ahmad Shafiq, a member of the old Mubarak guard, and Dr Mohammad Morsi, a Muslim Brotherhood candidate.
JUNE 30, 2012
Morsi was sworn in as the new President of the Arab Republic of Egypt, after winning the elections with 51.7% of votes compared to Shafiq's 48.3%. The people set up a MorsiMeter to measure how many of his promises would be achieved in the first 100 days of rule.В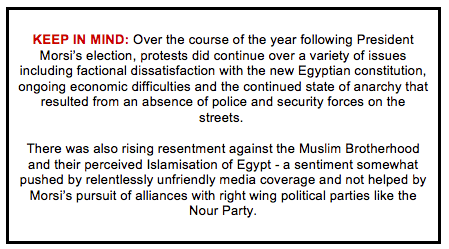 PRESENT DAY
APRIL 2013
Close to the one year anniversary of President Morsi's election, a group of Egyptian youth dissatisfied with his rule put together a campaign called "Tamarod" (literally "rebellion"). They set about collecting signatures on petitions that called for the retraction of the people's confidence in Morsi, therefore retracting his legitimacy as president.
JUNE 29, 2013
Armed with their petitions, Morsi's opposers took to the streets a day earlier than planned. The National Salvation Front (the coalition of main political opposition figures) fully supported the protests. Muslim Brotherhood headquarters were torched across Egypt, and a year's worth of tension spilled into street conflicts between people for and against Morsi.
JUNE 30, 2013
On the anniversary of Morsi's appointment as President of Egypt, Egyptians marched en masse. Tamarod set up camp in Tahrir Square, Cairo, and across the nation. Meanwhile, Morsi's supporters titled themselves "Tagarrod" and took to Rab'aa Al Adaweya Square in Cairo and in various other locations across Egypt as well. The battle of numbers began.
Meanwhile, an attack on the Brotherhood's main headquarters in Cairo resulted in the death of at least five anti-Morsi protesters. Nationwide, almost 400 Egyptians were injured .
JULY 1, 2013
Protests continued. Tamarod announced a deadline for President Morsi to resign by 5PM the next day.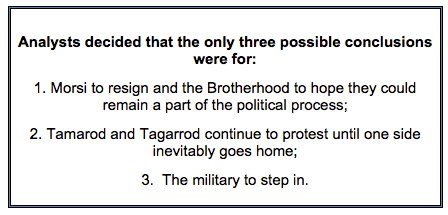 Sure enough, on that same day, Egypt's armed forces issued a 48-hour ultimatum for Morsi to resign. Meanwhile, Morsi's ministers started to resign from their positions and the National Salvation Front (NSF) politely rejected the military's interference.
JULY 2, 2013
At 2AM, President Morsi rejected the ultimatum and declared that he would defend his legitimacy as elected president with his life.
This announcement was met with bloody clashes when what witnesses described as thugs and police attacked a pro-Morsi protest outside Cairo University. Twenty-three died and hundreds injured.
JULY 3, 2013
Tamarod and the NSF released a statement requesting that the armed forces do their duty by the people and intervene to protect Egyptians from bloodshed and instability. They declared that any rhetoric describing military protection as a "coup" is discourse that ignores the dangerous situation at hand.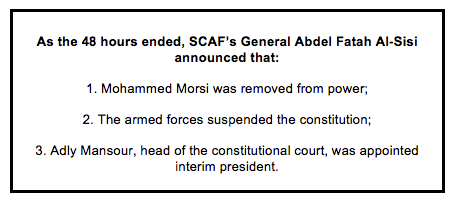 JULY 4, 2013
The armed forces shut down Al Jazeera Mubashir Misr and four Islamic satellite television channels overnight.
Warrants were issued for the arrest of Muslim Brotherhood figureheads.
Morsi and his aids are said to be under house arrest at the Presidential Republicans Guard Club.
The biggest battle now became one of terminology. Was this a military coup , or was it – as online activists adamantly put it – #not_a_coup ?
JULY 5, 2013
Morsi's supporters continued to protest for what they argued was the "legitimacy" of the deposed president. An airport was attacked in Al Arish , allegedly by Islamists.  Pro-Morsi protests across the nation were reportedly attacked including praying protesters in that same town of Al Arish.
The US government refused to refer to Morsi's ouster as a coup, a label that would impact on the annual USD1.5 billion in aid to Egypt.
JULY 6, 2013
An announcement was made that Mohamed El Baradei, a Noble Peace Prize winner who led inspections of Iraq's nuclear weapons before the Invasion, was appointed as Prime Minister.
The Nour Party objected to El Baradei's appointment and the announcement was withdrawn .
JULY 7, 2013
Sources reported that Kanye West and Kim Kardashian's wedding will most likely take place at the pyramids in Egypt .
Yeah, we're not sure either.
JULY 8, 2013
Soldiers attacked pro-Morsi supporters as they performed fajr (dawn) prayers outside the Republican Guard military barracks, killing 51 people and injuring almost 435 in what is being described as a massacre. Tear gas and live ammunition was used.
Egypt's interim government promised to run an inquiry into these deaths. The military claims that a terrorist group killed one army officer and tried to storm the barracks.
The Nour Party announced its withdrawal from talks about an interim administration following the dawn massacre. Al Azhar's Grand Imam Ahmed El-Tayyeb demanded the release of all political prisoners. He threatened to go into solitary retreat if the bloodshed continued without effort to stem it.
JULY 9, 2013
Interim president Adly Mansour announced a timetable for new elections despite the ongoing unrest. A committee to amend the currently suspended constitution will be formed in 15 days. The new constitution will be put to a referendum in four months' time.В В Parliamentary elections are scheduled for February 2014, with presidential elections to follow soon after parliament is sworn in.В
As Egypt's MuslimВ majorityВ population prepares to fast with the commencement of Ramadan on Wednesday, it remains to be seen how much longer this conflict will continue.
Ultimately, the interim government's approach to the ongoing violence and to Tagarrod's exercise of the democratic right to express political dissent will be telling, as the administration goes about trying to remap Egypt's future.